Hello everyone,
I am a Post-Doctoral fellow at UC Irvine working in the Stark lab and we just started using FSL-MRS to analyze some of our spectroscopy data. I have been successful in using it to analyze the single voxel data with no problems and loving it! It also worked okay for typical axially acquired data for another lab member but I am running into some trouble with loading up our MRSI data: Our MRSI data was bit atypical in the sense we were trying to collect it in the sagittal plane. Not sure if collecting data that way is itself problematic or it is a loading/conversion issue. The single voxel mrs_segment runs fine on the same subject's data. I would really appreciate any thoughts/help with this!
The spec2nii conversion itself ran without issue
Here is a screenshot of simply loading up the data in fsleyes - the plane is correct but the span looks much larger than where data was collected from and not sure what the bright voxels are supposed to be that is also not where the data was collected from it was more of a small rectangle in the same sagittal plane inside the one seen.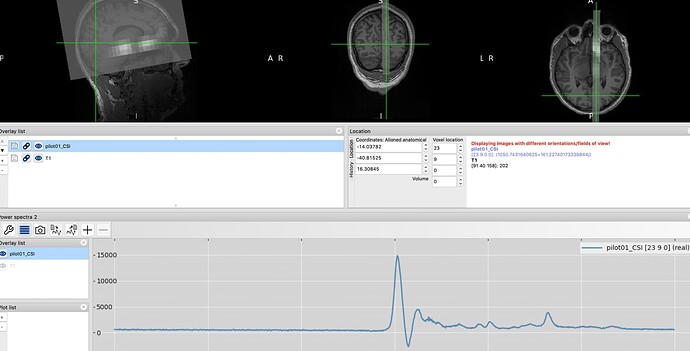 And here is the exact mrsi_segment error:
mrsi_segment -a Anat/T1.anat MRS_Dicom/pilot01_CSI.nii.gz
sform and qform not identical in image /Pilot01/Anat/T1.anat/T1_fast_pve_0.nii.gz
Traceback (most recent call last):
File "/home/pia/miniconda3/bin/mrsi_segment", line 10, in
sys.exit(main())
File "/home/pia/miniconda3/lib/python3.9/site-packages/fsl_mrs/scripts/mrsi_segment.py", line 72, in main
applywarp_func(anat / 'T1_fast_pve_0.nii.gz',
File "/home/pia/miniconda3/lib/python3.9/site-packages/fsl_mrs/scripts/mrsi_segment.py", line 63, in applywarp_func
applywarp(str_resolve_path(i),
File "/home/pia/miniconda3/lib/python3.9/site-packages/fsl/wrappers/wrapperutils.py", line 1152, in wrapper
result = fot(*args, **kwargs)
File "/home/pia/miniconda3/lib/python3.9/site-packages/fsl/wrappers/wrapperutils.py", line 796, in call
result = func(*args, **kwargs)
File "/home/pia/miniconda3/lib/python3.9/site-packages/fsl/wrappers/wrapperutils.py", line 1194, in wrapper
return fot(*args, **kwargs)
File "/home/pia/miniconda3/lib/python3.9/site-packages/fsl/wrappers/wrapperutils.py", line 796, in call
result = func(*args, **kwargs)
File "/home/pia/miniconda3/lib/python3.9/site-packages/fsl/wrappers/wrapperutils.py", line 197, in wrapper
return runner(cmd,
File "/home/pia/miniconda3/lib/python3.9/site-packages/fsl/utils/run.py", line 395, in runfsl
return run(*args, **kwargs)
File "/home/pia/miniconda3/lib/python3.9/site-packages/fsl/utils/run.py", line 233, in run
raise RuntimeError('{} returned non-zero exit code: {}'.format(
RuntimeError: /usr/local/fsl/bin/applywarp returned non-zero exit code: 1
Here is the data :
MRSI_Data.zip (3.8 MB)
T1_fast.zip (2.9 MB)