Hello,
Firstly, thank you so much for providing this user-friendly software! It is very comprehensive and easy to follow. I went through the other posts and found nothing matching my questions. I would appreciate it if you could help me to solve my problem.
Part one:
I have read the "Contribution of macromolecules in Experts' consensus recommendations" article, but I do not understand clearly what does this sentence mean?
" If the objective of a study is to determine metabolite concentrations and ratios, then the MM contribution has to be removed or included in the basis set used for quantification, especially for TEs below 80 ms. "
Does this sentence mean after I analyse the spectra with LCmodel, I should not see the concentration of lipids and MM in the box below the metabolite concentration box? What if I use the basis set in which the MM measurement is included? Should I not still see the MM quantification?
If yes, I think I need to put NSIMUL=0 in the lcmodel control file to remove MM quantification. Yes?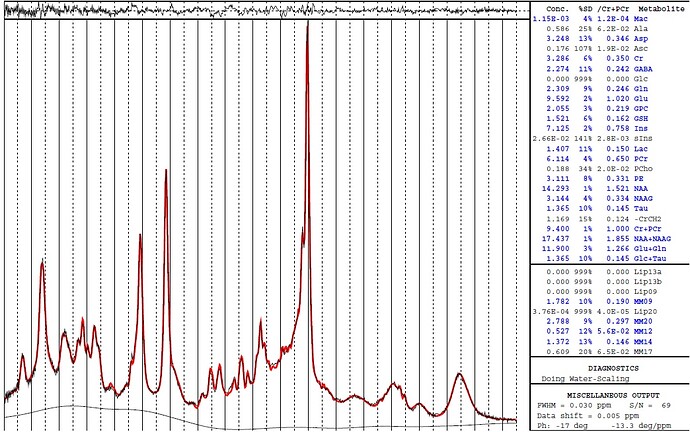 Part two:
If I need to delete MM concentration to determine metabolite concentration accurately, I do not know how I can do it with Osprey. (1) I ticked off and on the 'add MM and Lip basis functions to fit" option in creating Job,(2) I unticked MMs in the selected Metabolites, (3) I changed the NSIMUL=0 in the control file that was generated by Osprey automatically, but The MM concentration was still there after I did all these steps.
Thank you,
Zeinab