Hi,
I am using the AMARES method from jMRUI to quantify MRS signals. I have some questions about the result.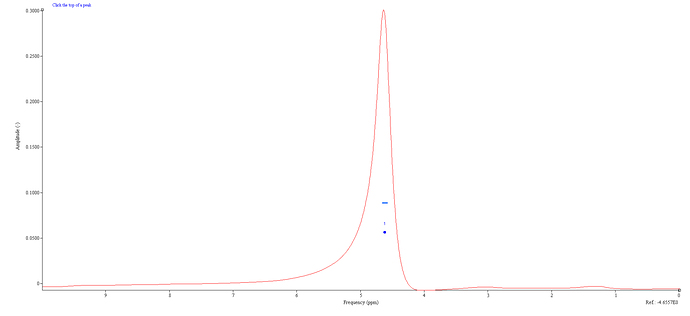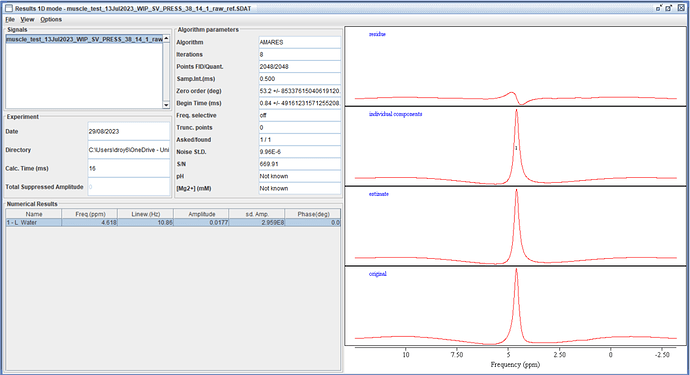 The first image is an unsuppressed water signal from muscle which has been apodized and phase corrected. So there, as you can see, the amplitude is close to 0.300. When I quantify using the AMARES algorithm (second picture), the result shows that the amplitude is 0.0177, which is pretty different than what's visible to the eye. Does someone know what is happening here? Why is there so much discrepancy?
Another thing is that the line width (shown as Linew (Hz)) in the result is 10.86. This is equivalent to the half-width at full max of the spectra (if I am not wrong). When I calculated it manually in the phase-corrected spectra just before performing the AMARES analysis, I found it to be very different. I simply put my cursor at the peak, calculated half of that peak, found the x-axis values at the half, and subtracted them. I got something like 50 Hz but here at the results, it's pretty low. Does anyone know what's the reason? What am I missing here?
Any help/ insights would be appreciated. Thanks for your time.
Best,
Roy